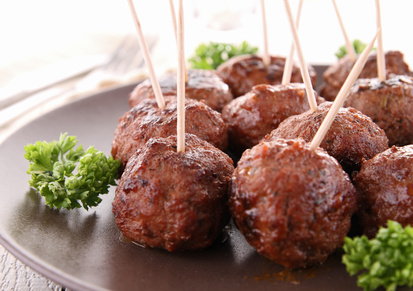 Planning for a corporate event, convention, conference or private party can be VERY stressful. If you are the person planning your company party or association event, you know exactly what I'm talking about. You have so much work to do on your main job and now someone stuck you with this task. 🙁 Over the past 20+ years I've worked with many people, just like you. Some call me when they are looking for a keynote speaker, motivational speaker or corporate entertainer. Some have budgeted an appropriate amount for the speaker / entertainment while others haven't. I even made a video on how just cutting out a few appetizers can help your budget immensely (watch it below). After talking with banquet halls / convention centers, I was floored at how much companies are spending on meatballs or other appetizers. Some spend over $20 a person, just for meatballs! Their money all goes to the appetizers and they have pennies per person left for the speaker / entertainer.
Over the years I've talked with MANY party planners that overspent on food and didn't have much of or any budget left to hire a keynote speaker, motivational speaker or corporate entertainment. They were left without a speaker or entertainer and their party was a flop. The speaker or entertainer is the one that gets the standing ovation at the end of the night, not the meatballs. The speaker or entertainer is the one people are talking about for month or even years after the event. They usually don't remember what they ate a week or less later.
When planning for an event, make a list of the things you want / need at your event and put the most important ones at the top. You need a motivational speaker, keynote speaker, corporate entertainment, food, drinks, etc. Save the extras like more appetizers, expensive centerpieces, etc. until after the more important items are scheduled. If you have extra for a DJ, band, chocolate
fountain, etc. then GREAT, go for it! Ask your co-workers and see what type of entertainment or professional speakers they'd like to see. I had one client that really liked golf and they hired a speaker that spoke on designing golf courses. His employees didn't like golf and were bored out of their minds. Find something that a good majority of your guests will like.
You can't please 100% of them 100% of the time, but you can try to hire someone that will be entertaining and motivating for a good majority of them. You'll always have a person that will complain, no matter who you hire. You know who this person is, don't you? Yes, planning for an event can be stressful, but it can also be a lot of fun, especially when you are dealing with a speaker / entertainer that is easy to work with.
Plan from the end of the evening backwards and you should do fine. Budget the appropriate amount for each portion of the evening without going overboard on any one thing and you should be fine.
If you want to hire a speaker / entertainer your guests will remember, give me a call.