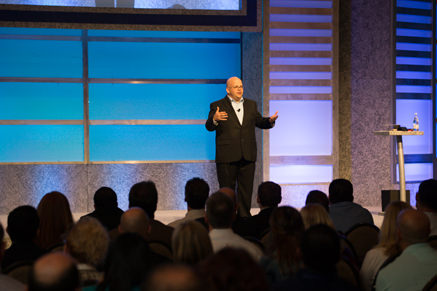 John Pullum is a Motivational Speaker, Keynote Speaker, General Session Host / Emcee and Corporate Entertainer all rolled into one. Do you need some motivational entertainment for your annual meeting, sales conference, kick-off session, company holiday party, after-dinner entertainment, meeting, opening session, closing session, management retreat, awards banquet, convention, association functions, employee appreciation event, customer appreciation event or other corporate occasion? You need John Pullum! 
What type of presentations does John offer? Watch the video below to hear all about them.
---
Corporate Entertainment
Are you having an awards banquet, sales meeting, customer appreciation event, company holiday party or other event and need some entertainment?
Mentalist John Pullum – America's Funniest Mind Reader
is the perfect fit for your entertainment needs if you are looking for something unique, hilarious and simply amazing.
Mentalist John Pullum's quick wit and amazing mind reading combine for a hilarious show. Will you be one of the lucky ones that has their mind read by John? You'll be totally amazed with his 100% clean, audience participation, comedy mind reading / mentalist show.
---
Motivational Entertainment
Are you having a sales meeting, national convention, awards banquet or other event and need someone to entertain your guests while motivating them at the same time?
John Pullum's Motivational Entertainment
is the perfect fit if you want to motivate and entertain your guests. He will involve your audience both on stage and off, have them laughing, totally amazed and motivated during this presentation. People learn better and retain information better when they are having fun.
Motivational entertainment is a specialty of John Pullum. This is his most requested presentation for corporate events.
---
Keynote Speaker / Motivational Speaker
Are you having an awards banquet, sales meeting, national convention or other event where you want less entertainment and more motivation?
is the perfect fit when you need someone to inspire and motivate your guests.
There are times that John's motivational entertainment just won't fit into your program. Those are the times your employees need more motivation and a really inspirational heart to heart talk without so much added entertainment. John's motivational keynote speech is a perfect addition.
---
Event Host / Emcee

On most lists of fears, the fear of public speaking comes before the fear of death. Many CEOs or other event coordinators are afraid to get up in front of people to speak. John Pullum is able to be your event's master of ceremonies and take that fear away from you. John has hosted over 2 dozen national and international television specials for The Discovery Channel. Why not have John interview your CEO, employees and customers on stage or have a crew film John's interviews and play them back at the event? John can keep your awards ceremony or other session moving along and keep everyone entertained at the same time. Be sure to add-on one of John's other presentations to save money with his full-day or half-day options.

---
To book John for your next event or for more information call 1-313-538-3626 or use our no obligation online request form on our contact page.