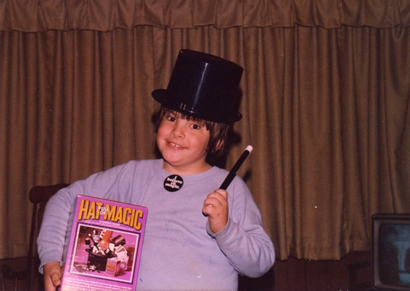 This is a photo of me with my first magic kit. I believe this photo was taken on my 7th birthday. I still have the plastic hat. Since as long as I can remember, I've wanted to make people smile and laugh. I used to do shows for the neighborhood children out of my bedroom window. There would always be a knock at my window from someone in the neighborhood wanting to know when the next show was going to start. Some of the kids were my age while some were younger and some even older. From magic tricks, puppet shows or just acting goofy, I'd do anything to make them laugh. They'd keep coming back for more and I'd always have something ready to show them. When I talk with my old childhood friends they still mention my shows. It made a lasting memory, so I guess my goal of making a fun lasting memory for them worked.
During one of my visits to my parent's house I went into my old bedroom, sat at my bedroom window and looked out at the neighbor's driveway. It seems like just yesterday that the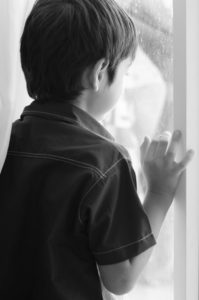 window was my stage. I could still see the neighborhood kids sitting there in my mind, laughing and clapping. I could picture myself opening up the window curtains or I guess I could have called them my stage curtains and seeing my smiling friends waiting for a show.
I dreamed of entertaining people for a living. Some people said it wasn't a realistic dream, while others, like my parents, supported me in my journey. I can't thank my parents enough for all their love and support over the years. In high school when my friends were going out and working at Burger King, I was dressing up like a clown and making balloon animals at corporate picnics and kid's birthday parties. My dreams of a career making people smile began with my first paid show at the age of 16. Although the clown nose and clown shoes have been put up on a shelf many years ago, I continueto entertain and motivate people for a living. I'm not the little boy standing at the window entertaining children, I'm motivating and entertaining at sales conferences, conventions, awards banquets and other functions around the country.
By adding motivation to my presentations I'm able to not only entertain my audience, but motivate them and inspire them as well. Booking myself as a motivational speaker, keynote speaker and corporate entertainer ( mentalist ) is my full-time job. I feel very happy and incredibly lucky to do what I do for a living.
I want to thank my friends, family and clients for all of your support over the years. I appreciate you!