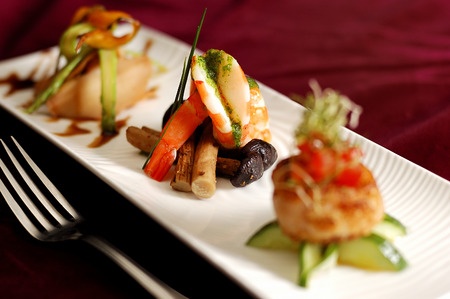 There is a difference in quality in most, if not all things in life. Even something as simple as the air we breathe has different quality standards depending on where we are in the world.
Think of a fine dining restaurant. Picture the table in front of you. Is there a cloth napkin nicely folded or a paper napkin on the table? Is there silverware or a plastic fork and spoon? A paper or plastic plate? When the meal gets to you is it nicely prepared and presented or just thrown on a plate? It's easy to visualize a nice dining experience. The food is exquisitely displayed, like a work of art. The chef took time in preparing your meal and it shows. The waitstaff is there when you need something and makes your evening very enjoyable. The manager or chef even comes out at times to ask if everything was to your satisfaction.
Now think of the last cheap meal you had. You stand at the counter for what seems like forever until someone finally walks up to you, grabs a couple of menus, grunts and motions for you to follow them. They ask you to sit at a table that still has the $2 tip on it and a half cup of coffee they forgot to clean up. They say your waitress will be right with you. You look out the window and see her smoking in the parking lot and texting someone. 5 minutes later she brings over water, takes your drink order and leaves again for 5 minutes. After you finally order your meal arrives cold and it looks like someone threw it on the plate without even looking. To top it off, they messed the order up, but since it will probably take another 15 minutes to get it right, you just eat what they gave you and throw the leftovers away.
The cheap restaurant is the type they you'd see off of the expressway with RESTAURANT in big letters on a sign on top of their building. They don't care about promoting their name as much as they do that they want the world to know they are a restaurant. I find most eating establishments with the word restaurant in large bold letters are usually really cheap. They have tables and chairs from 20 years or more ago and duct tape on the leather booth seats to cover up a rip in them. You can just tell by the outside that it's a dive and it won't cost you much. You'll still get food served on an actual glass dish, a hard plastic cup that looks like it should have been put in the trash years ago and stained silverware.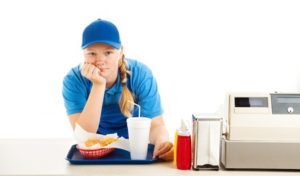 You could also go next door to the fast food burger place and spend less than $6 for a full meal including a soft drink and possibly get faster service. You'll still probably have something in your larger order messed up and have to wait for it to get corrected. You'll get your meal on a plastic try and each item will either be wrapped in a paper wrapper with the company logo on it or a thin cardboard box type holder. If they put it in a bag you'll have 10% of your fries on the very bottom of the bag to eat later. You are usually served by a person that hates their job, doesn't care about customer service, doesn't care your burger has pickles on it even if you requested one without. In rare occasions you are waited on by someone that loves their job or at least acts like they do and you go away happy. Those are usually very rare occasions.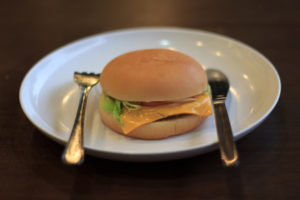 How is your experience at the fine dining restaurant different than at the one that was less than $6 a meal with bad service, cold food and messed up orders? The fine dining establishment knew their reputation was on the line and wanted your dining experience to be the best ever. They wanted everyone dining there to leave happy. The other cheap places were just there to plop food on a plate and hopefully make a 20% tip on your $5 order.
Odds are you've gone back to cheap fast food restaurants over and over, even if you've had a horrible experience there. Why? It's cheap and you know you get what you pay for. You just need something to fill you up because you are in a hurry. You don't expect much from them and don't get too upset if you don't get the best service because you are used to it.
There is a difference in quality of a fine dining restaurant and a cheap diner or fast food place. We all know that. We can walk past a restaurant, look in the window or exterior and know if it's going to be cheap or higher priced just by looking at it. You don't even need to look at the menu prices to know a range of what it is going to set you back. If I'm taking my kids out to a mall and they are hungry, I'm probably going to take them out for fast food or a national chain that doesn't cost a fortune. If it's my anniversary or we are celebrating my daughter graduating from college or some other important occasion, we'll go someplace nice. There are other times we'll go somewhere nice just to go somewhere nice. In both situations we know we are going to get what we paid for.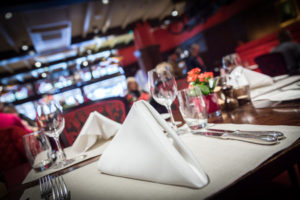 The same thing goes when you are trying to impress your guests or at a banquet or business lunch. Odds are you are going to have your very important once a year corporate event at the local VFW hall with the wood paneling walls and beer signs on the walls, if they is a nicer banquet hall in the area. If you do decide it's only in your budget to have it in a cheaper hall, you probably are going to have a less expensive meal to go with it.
As mentioned in another blog post about the importance of quality, you wouldn't expect a fine dining restaurant to give you a meal at a fast food price just because you can't afford the price for their fine quality. You wouldn't even think to call a place that you know has a $50 steak meal and ask if they'd just give it to you for $5 because that's all you want to pay.
"Perfection has to do with the end product, but excellence has to do with the process." – Jerry Moran
Now instead of thinking about the quality of the food or establishment, let's put it into the quality of your motivational speaker, keynote speaker or corporate entertainment. We've all been to meetings, conferences, conventions, etc. where there were great motivational speakers and incredible corporate entertainment.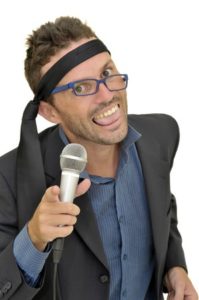 We've also been to events where there were boring speakers and horrible entertainment. Why are they different? There is a difference in the quality or speakers and entertainers, too. Maybe the entertainer doesn't do it for a living, isn't that good, but works cheap. They were never good enough to do it full-time, but still love getting in front of an audience to practice and get some applause. You get what you pay for.
I can't tell you how many times I've heard of a company hiring a local comedian that turned out to be R or X rated and ruined the party. Just because they are a hit at the local comedy club it doesn't mean they will be a hit at your corporate event. I've even heard of situations where the CEO got up and took the microphone from a horrible act on stage and told them to leave. I don't think the CEO was very happy with the horrible entertainer or the entertainment committee (his / her employees) that hired this person.
Maybe the speaker only works for the local senior groups, but doesn't have a speech topic or style suitable for an important corporate event. They might be a big hit at the local church they attend, but isn't appropriate for your event. Don't hire Marge's cousin Phil that she says is always so funny at their family's Thanksgiving dinner to be your corporate comedian. He might make Marge and her family laugh a lot, but doesn't do it for a living and hasn't been in front of an actual audience before. I know that sounds like something nobody in their right mind would do, but I've heard it happening!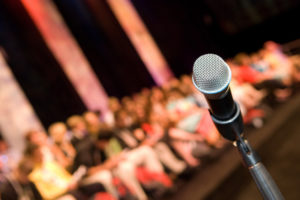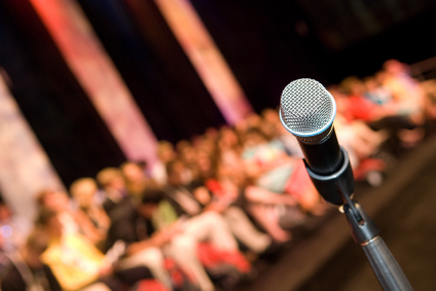 Over the years I've had many people that didn't plan their event budgets well that asked me to entertain or motivate their guests for the minimal budget they have left. Why would I lower my rates by 80% or even 50% for no reason other than the fact that the client didn't budget enough or just doesn't have money? I can't do it.
It's not fair to my past clients that paid my full rate to offer it to someone else at an 80% discount just because they don't have me in the budget. If you don't have a budget for a $150 a plate meal for each of your conference attendees, they don't get a meal that's worth $150. The convention center kitchen isn't going to give you prime rib on a grilled cheese sandwich budget just for the heck of it. The speaker you book direct or through a speakers bureau is going to be the quality of the amount you are paying in most situations.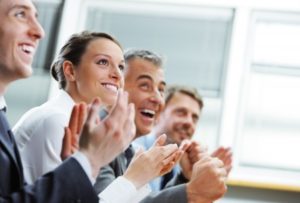 There are some celebrities that call themselves speakers and charge high rates. They are famous actors or politicians, but not great speakers. You are paying for a celebrity to be at your event more than you are a quality presentation. You usually start getting decent quality for a motivational speaker or keynote speaker at $6,500 and up. Not saying you can't get a quality speaker for less, but you probably aren't going to get the top of the tops.
I started this blog post talking about the quality of a meal / restaurant to try to put things into prospective for you. It's easy to close your eyes and imagine a fine dining experience or horrible one because we've all experienced both. It's not as easy to close your eyes and experience a horrible motivational speaker or incredible corporate entertainment unless you've hired them or been at an event with one.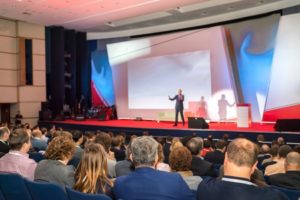 For many of you I'm the first speaker / entertainer you've hired or are going to hire. For others reading this blog, you can close your eyes and remember some incredible people you've hired to motivated and entertain your guests. Sadly, you can also remember some you'll never book again.
With every aspect of your upcoming event you can have various qualities of things from the meal to the room the event is held, to the speaker all the way down to the type of cocktail napkins that are under the drinks. It's all up to your budget and who is planning the party. It's always good to have a committee to plan the events and go over everything to keep others in line.
Since the first or last thing your guests experience is the opening or closing speaker / entertainment, it has to be wonderful. It can make or break your event.
When it's your name behind booking the motivational speaker or corporate entertainment, you know you have to have quality. There is a difference.